1st June 2020
Re-opening of the practice!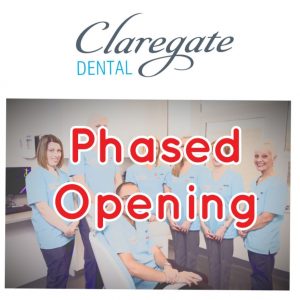 Phased Re-opening of our Dental Practice in Wolverhampton
01/06/2020
To all our Patients and Friends,
Following the Prime Minister's announcement, we are pleased to announce we will open again on: MONDAY 8TH June 2020 (and back to our normal opening hours)
However, as advised and to keep in line with Government guidelines, our practice opening will be phased in. Only certain treatments will be permitted in the short term.
The aim here is ensure we continue to deliver our service safely for both patients and our team.
We also have to deal with obtaining the right extra PPE which is currently a big issue in healthcare.
We would greatly appreciate if patients can follow this advice and watch the video below:
1) We need to keep the number of people in reception to a minimum to help with ongoing social distancing.
2) Avoid arriving too early for your appointment. If you arrive early by car, it will be greatly appreciated if you can please wait inside your car until your allocated time.
3) Where possible, only the patient should attend for their appointment.
4) We may ask you attend at certain times and days of the week, to help us deliver particular treatments effectively and safely.
5) We may not be able to perform some dental procedures yet, due to current guidance. Hence, please bear with us whilst some of your dental care may be delayed or modified. We will discuss this with you in more detail.
6) If you have been informed that you are still "shielded" or classed as vulnerable, please let us know as soon as possible, ideally before attending.
7) If you feel unwell or have "cold -like" symptoms, please let us know as soon as possible, preferably by telephone before your appointment.
Thank you for your understanding and helping us through this transition period.
Please be assured that we always work towards the safety of our patients and staff, and high standards of infection control are applied at the practice.
Look forward to seeing you soon and keep safe!
Bhup